7 of the Greatest Tiny Home Ovens
Choosing the right tiny home oven is an important decision, especially when you're working with limited space or a tight budget. You still want to be able to cook all your favorite meals, but your appliances need to fit in your tiny kitchen without making you claustrophobic.
Luckily, there are lots of options to pick between, from traditional electric or propane ovens which have a built-in stove, all the way down to tiny toaster ovens for your countertop. To help you get started on your search, here's a list of some of the best tiny house ovens.
When you buy through links on our site, we may earn an affiliate commission. As an Amazon Associate, we earn from qualifying purchases.
Electric or Natural Gas Ranges:
If you love to cook and you have the space and energy resources available in your tiny home, consider an electric, gas, or propane oven with a stovetop — the same kind you'd find in a traditional house. Sure, you might be able to cook food with your tiny home's wood stove if you really need to, but having a kitchen with a dedicated range gives you more freedom while cooking, and for those with less space, you can find smaller models to fit most tiny kitchens. Below are a few of the best options on the market.
Product specifications
Fuel Type: Electric
Voltage: 240V
Oven Capacity: 5.3 cubic feet
Dimensions: 29.87" x 37.25" x 28"
Weight: 200 lbs.
The Good
Range gets hot quickly, and stays hot
Wi-Fi compatible, with many helpful features
Air-frying for crispy food without excess fatty oils
Finger-print resistant finish
Self-cleaning mode
Fit Guarantee
The Bad
Pricey
A moderate amount of configuration needed
If your kitchen has the space, this stylish tiny house electric oven can do almost any cooking task you need — including air frying, without needing to preheat. The oven features the True Convection system, which uses a third heating element and a reversing fan for the ideal heat circulation. It's Wi-Fi enabled, too, so you can manage the oven from anywhere, or just use the classic touch controls on top.
The power boil element, which concentrates heat, is a nice touch, and you won't need to wait around for ages for water to boil. Plus, with five elements total, you can cook many different components or dishes at once.
Product specifications
Fuel Type: Gas
Voltage: 120V
Oven Capacity: 2.9 cubic feet
Dimensions: 39.4" x 24" x 29.5"
Weight: 156.53 lbs
The Good
Fun retro design
High-quality stainless steel construction and chrome-finished accents
Roomy oven space
Sealed burners for easy cleanup
Available in a variety of colors
The Bad
Some users found the oven sometimes goes out on the first lighting attempt
This robin egg blue-hued gas oven is a bit smaller than our last pick, making it easier to fit in tiny home kitchens with limited space, plus it looks beautiful. It's a gas stove, so if you're living in an off-grid tiny home with limited power, it might be easier to use than pure electric ovens — just be aware that it still uses some electricity to ignite and run the convection fan.
There's also storage on the bottom for your pots and pans, which is convenient. If you're less bold with your color choices, it's available in more muted tones too, like summer mint green or a sleek midnight black. Match it with your favorite kitchen appliances for a truly aesthetic space to cook.
Product specifications
Fuel Type: Gas
Voltage: 120V
Oven Capacity: 2.3 cubic feet
Dimensions: 42" x 19.5" x 23.5"
Weight: 130.07 lbs.
The Good
Affordably priced for the level of quality
Easy to clean
Straightforward installation
Can be manually lit in case of a power failure
Good for small homes, but still has four burners
The Bad
Oven space is a bit tight
Only available in white
For anyone with a tiny space in their kitchen, this is the smallest gas range of the bunch at only 20" — one of the smallest you'll find available in this oven style. This gas oven has an electric spark ignition, too, and there are four sealed burners on top for clean and safe cooking. The grates are all enameled, so they should last you a long time.
The oven's interior isn't the largest, of course, but you should still be able to do most of the baking or broiling you need. There are four positions where the slide-out racks can sit, to help accommodate larger foods like a Thanksgiving… chicken!
Countertop Ovens:
Large electric or gas ovens aren't the only way to go for your small kitchen. There are some great countertop ovens out there that you probably won't feel limited by, plus they let you utilize the storage space underneath the counter. So, if you need an extra small oven for your tiny house, consider one of these countertop models.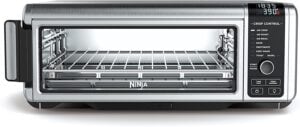 Product specifications
Dimensions: 19.72" x 7.56" x 14.96"
Weight: 18.56 lbs.
Voltage: 120V
Wattage: 1750W
The Good
Can cook food many different ways
Easy to store
Cooks quickly and efficiently
Easy to clean
The Bad
Interior height is too small for something like a roast chicken
This Ninja model isn't just a countertop oven, but it's a broiler, pizza oven, air fryer, toaster, dehydrator and more. The interior is quite large, too — you can cook up to a 13" pizza, or four whole chicken thighs, inside. When you're not using the oven, just flip it upwards against your wall and it can save you some precious counter space. It can't work as a stovetop, of course, but since it's so compact, it's easy to pair with an induction cooktop anyway.
Product specifications
Oven Capacity: .77 cubic feet
Dimensions: 31" x 22" x 29"
Weight: 12.4 lbs.
Wattage: 1600W
The Good
Compact design
Multiple cooking functions
Durable in the long run
Easy to clean
The Bad
Doesn't have many bells and whistles
Even though the Dualit Mini Oven is super compact, it still has a decently sized cooking area, so you'll be able to roast or heat up lots of different dishes. The non-stick interior is helpful when it comes time to clean, too, since all you'll need to do is wipe it down, and there's a removable tray to get out all the pesky food crumbs.
This countertop oven also heats up quickly — from a starting temperature to 425 degrees-Fahrenheit in just under nine minutes — so you won't need to stand around for ages waiting to put in your pizza.
Product specifications
Dimensions: 7.7" 6.3" 7.2"
Weight: 3.2 lbs.
Wattage: 550W
The Good
Cute color and design
Perfect for toasting small foods
Automatic shut off
Easy to clean
The Bad
The very small size significantly limits what you can cook
Ovens don't get tinier than this mini toaster oven from Dash! You obviously won't be able to cook normal dinners in it, but if you're just heating up a sandwich, half a bagel, or breakfast roll in the morning, you'll save a lot of time and electrical energy. It comes in a cheery yellow color with lots of vintage charm, so it'll look great in your tiny kitchen.
Cleanup is a breeze, too, since the removable parts inside, like the rack, baking tray and crumb tray, are all dishwasher safe. Plus, it's easy on the wallet, so adding it to your kitchen isn't really a huge investment. It's a cheap buy, so if you break it you may be able to buy another one :P. Ultimately, you're not cooking anything larger than a pizza in here!
Microwave Ovens:
If you don't really cook that much and don't need a whole oven, or you're trying to build a tiny home on a very tight budget, maybe a simple microwave like the one below is all you need for your meals.
Product specifications
Oven Capacity: 1.5 cubic feet
Dimensions: 21.41" x 12.13" x 17"
Weight: 26 lbs.
Voltage: 120V
Wattage: 1200W
The Good
Sleek exterior that wipes clean easily
Compact, but spacious on the inside
Heats up food quickly
Anti-bacterial coating inside, which resists stains
The Bad
Some users said theirs stopped working sooner than they hoped
The LG NeoChef Countertop Microwave has a very large interior for a microwave oven, and it's built with sensor cooking technology that can automatically adjust cooking time and power when needed. And don't be fooled, microwaves aren't only great for reheating food. Many professional chefs use microwaves on the daily, for things like rice, steaming vegetables, or even pre-cooking meats before giving them a final sear in a pan.
This one also has an interesting turntable I've never seen used before. Instead of the usual three wheels, the spinning plate has six, which keeps it more stable and stops your dishes from tipping and slipping.
We hope this list helps you on your journey to find the perfect oven for your space. If you still have any questions about tiny home ovens, read on for some answers!
Frequently asked questions about Tiny stove or Ovens.
What's the best tiny stove and oven combo? 
While there are lots of different options to choose from, a classic electric or gas range is probably the best  combination of a stove and oven. If you don't have space for even the smallest options, you could also  use a countertop oven and a burner cooktop and keep them safely stored away when not in use. 
What is a micro-kitchen?  
Micro-kitchens are essentially just compact kitchens, with every appliance working together to take up as  little space as possible. Most micro-kitchens still have all the essentials of some kind in a small space, like  a stove, oven, fridge, and dishwasher, so building one doesn't mean sacrificing functionality. See our  other tiny house kitchen guide if you need any help planning your kitchen efficiently, and check out our  list of some of the best tiny house appliances to set your yourself up for success. 
Is it possible to have a tiny house stove, oven, and dishwasher combo?  
It's definitely possible to fit all three of these appliances in your tiny house but finding them all together  in one unit or to DIY can be a challenge for the average consumer. Some designers and architects have  achieved this, though, so consider having your tiny house professionally designed if you really want your  kitchen as condensed as possible. There are also little portable tools you can buy to turn your tiny house  sink into a dishwasher, if you'd like, or handwashing your dishes isn't the worst thing.  
How should I choose my tiny oven for my house?  
Start by figuring out the size of oven you'll need, and what kind of power you'll be able to supply to the  oven. If you're living in an off-grid tiny home, for example, you might be reliant on solar power, which  probably won't be able to power your electric oven on a cloudy day. Using a propane oven might be best  in that situation, but otherwise, gas and electric ranges or countertop ovens are your friend. Make sure  you set up the appropriate venting, too! 
What are some important things to look for in buying an oven or stove for a tiny home?  
Besides making sure your new tiny house oven fits in your budget, the other most important thing you  should be looking for is the functionality. Do you need your oven to have a built-in stove, or would you  prefer a countertop oven to cook your meals? Do you really need an oven, or do you just want an induction cooktop and a microwave? Answering questions like these will help you figure it out. But, if you  want an appliance that won't limit your cooking, opt for an electric or gas range.