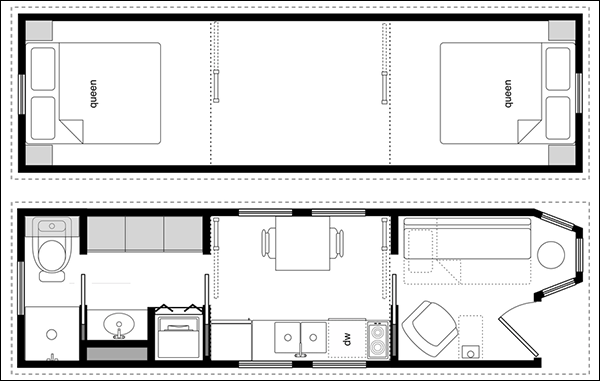 Best Layout For A Tiny House: For Families, Couples & More
Before choosing your tiny house layout, consider the following question: "Do you really need a big space?".
There are basic things you should consider before thinking about the floor plan, floor size, and materials you need. Most people dream of living a luxurious life, but do we really need all that to be happy? Having a big mansion is certainly nice, but it's not always what we need. However, when you know your real needs, you can better determine the structure and functions of your tiny house and how to arrange your life to live there contentedly.
Getting a Piece of Land
Many people think about building a house. Anywhere you want to build your home, the land should be the first thing to consider. You know you should get land where you can access infrastructure, security, and utilities. It may be expensive, but it is absolutely necessary for good living. When you've discovered a good place with access to basic needs, there are even more things to consider before bringing the house to the land. You would have to plan the best way to enter and exit the property when your tiny house has been moved there. Edges should not be too sharp, just in case you need to make a turn with a large trailer or your tiny house.
Furthermore, if you have a car, you should plan a designated area on your property where you'll be able park the vehicle. Also, you should arrange a section where visitors can park their cars when they come to see you.
Things to Consider When Purchasing Land
Consider access to the land: It's essential that where you want to live is easily accessible. If you are on a new site, you must clear bushes, uproot trees, level dirt, and make a good path to your home. You don't want your house to get stuck when you finally bring it onto the land or take it out.
Access to infrastructure: Where you want to put your new house should be accessible to some basic amenities like water and electricity. You must consider buying wires and pipes to get electricity and water. Keep in mind, the longer the distance from the source, the more you'll have to spend. You should also consider your waste disposal and management.
Outdoor area: Having a tiny house doesn't mean you should be locked in your tiny house. Because it's a tiny house, you might want to stay out more. Having ample outdoor space will be rather lovely.
The direction of the sun: When planning to make solar panels, consider how your house is positioned to gain solar exposure. At the same time, you want to avoid excessive sun exposure to your tiny house because you may not cope with the heat. So, you should position your house in the right direction, keeping heat and solar radiation in mind when you are using solar panels.
Closeness to everyday necessities: It is crucial to have land that is not far away from grocery stores, restaurants, and a hospital. Additionally, if you like certain activities, such as visiting a library, a bar, a swimming pool, and so on, find land that is close to those places as well.
Note: Check out our article on 10 things no one tells you about Tiny homes.
Hints for Planning Your Tiny House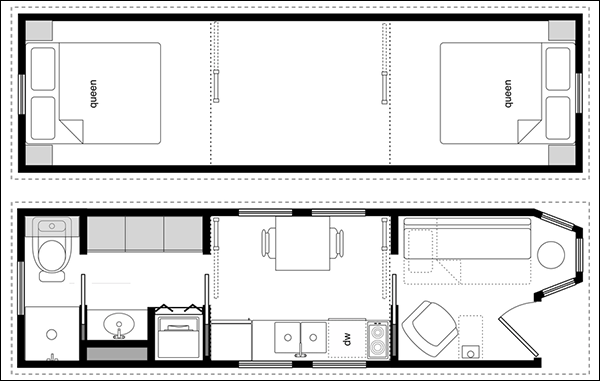 Consider how much space you will require for your tiny house: Using a paper version of your house can help you understand more about what you want, how much space you want your little house to occupy, and how to divide the space. For example, if you love playing games with friends, you'll need to create space for that. If you love to cook for friends, the kitchen should be bigger. So, depending on what you do or what you love doing, plan how to divide the floor space.
Windows: Don't plan your tiny house without considering your windows. Don't make your tiny house look like a box where you can't stay indoors for long because of heat. Make sure you give allowances for windows; this lets fresh air into your house and also enables natural lighting.
Choosing a Tiny House Plan
Cost. One major thing you need to consider before choosing a particular plan for your tiny house is your budget. How much can you afford? There are various plans you can choose from, although the cost is just one of the factors.
Lighting and Piping. Setting up electricity and water requires choosing a plan that makes these systems work together.
Size and Weight. If you are the type of person who always wants to move your house, you should go for a lighter house. A lighter house will definitely move faster and easier than a heavier one.
Floor Space.. After you determine the amount of space you want for your tiny house, you should consider the measurement of the floor space.
Size and Number of Lofts to Use.. The size and number of lofts you use depends on whether you plan to live in your tiny house by yourself or as a couple or household. If you think you need a bigger bed space or a larger space for storage, then you should go for a multi-loft tiny house. You'll also want to consider the size of your beds and what type of bedding you may want in your tiny house.
Type of Roofing. There are different kinds of roofs you can apply to your tiny house. If you are using a shed roof, one side will be higher than the other. Using a gambrel roof will allow room for more lofts.
Framing. Framing is equally necessary. You should know the kind of framing that will best suit the kind of tiny house you want, including getting the dimensions right.
After you purchase land and figure out how you want your tiny house to look, go ahead and make estimates on materials you'll need. Depending on your budget and size of the tiny house you've planned, you should be able to source the things you'll need.
General Questions to Answer Before Designing a Tiny House
How many people will live there? The answer to this question will specifically drive the design of the tiny house you'll get. A tiny house for a single person can be quite different from that for a couple and that for a family with kids and pets. You have to give allowances for things such as your office space when you're planning to work from home. Putting the number of people into consideration will help you come up with a good floor plan.
What are the things you can't live without? Let's be honest, certain items are essential for a good living environment. For example, you might love having a dishwasher in your tiny house. Make sure you create allowances for a dishwasher so that you will be comfortable living in your tiny house. The idea of a tiny house is not to make you uncomfortable or prevent you from doing things you love; however, there are some things you know you can do without. Therefore, you have to separate your must-haves from your maybes.
Do you mind arranging and rearranging furniture? It might be necessary to arrange and rearrange some stuff, especially where there is more than one person, such as a partner or an entire family. For example, you need to unfold your mattress before you sleep at night. You need to bring down a table before you eat dinner. You need to bring down a big box before you can change your clothes. All these become part of your routine. If you are not used to them or think that you can't cope with them, your tiny house floor plan should be big enough and well-planned to make sure you don't have to carry out most of these routines.
Should you care about the design? A tiny house is obviously not very big, so you should care about the design you want. How do you want your kitchen to look? What angle would you like your bed to be positioned? Where and how do you want your toilet, wardrobe, and shoe rack to be positioned? Those are the things you need to consider. Don't choose a design with a very small kitchen when you know you like using the kitchen a lot. Don't embrace a big bathroom when you are the only one living in the house; it might compromise other spaces.
How often do you plan to move your tiny house? Like we noted before, if you plan to move your house frequently, you should always go for a lighter weight tiny house design instead of a bulky, heavy one. If you don't plan to move the tiny house at all, you can plan not to use the tiny house on wheels; rather, you could construct your tiny house on a foundation.
How do you want the exterior to look? When you are planning your tiny house, you must consider various exterior parts. You should choose a good window design, building materials, color, and setting for the exterior. Don't make your tiny house look awkward and ugly. Make sure the color of the exterior is in line with the environment. A strange, mismatched tiny house can be really annoying!
What interior design suits you? You might want to think of the kind of interior arrangement that will be best for you; this depends on whether you are going to live in your tiny house alone or with other people. Also, you might like some parts of your house to be isolated. For instance, you might want your kitchen separated from other parts of the house. Make sure that the colors of all the decorations and furniture are well-blended. It will make the interior look more attractive.
What is the Best Layout for a Tiny House?
You might be wondering whether there is a perfect layout for a tiny house. There is virtually no specific perfect layout. The plan you choose among the various plans depends on your budget and how many people will live in your house.
For single people, Tumbleweed is a good and classic company that deals with making your tiny house a reality. They have thorough and easy-to-use plans. You can expect to spend about $30,000 when you decide to build it yourself, and roughly $60,000 when you pay someone to build it for you.
For couples, you'll have to make a house plan that suits two people. The Tiny Project is one reputable company with good floor plans for a couple's tiny house. If you are a beginner in building, you might need professional assistance. For a couple's tiny house, you should plan to spend around $25,000 to purchase everything you need. Hiring a builder will definitely cost you more.
For families with children, MiniMotives have great plans for tiny houses, especially for a couple with children or a couple planning to raise children. For the DIY approach, you'll have to budget about $30,000. If you plan to hire services, you'll have to pay about $60,000.
Basic Steps for Building a Tiny House on a Trailer
With all the above said, you'd then need to move onto actually building your THOW! The following are the general steps you'd need to follow:
Get a suitable trailer
Install the tiny house foundation
Install the wall frames
Make the tiny house sheathing
Measure and install windows and doors
Frame and sheath the roof
Build tiny house siding
Put up roofing
Do plumbing and electrical work
Run gas lines
Install insulation
Install appliances
Lay down flooring
Put up walls
Create space for a kitchen, bathroom, sleeping loft, and main room